Dayton RTA Launches Cash Payment Option for Mobile Tickets and Installs Justride Validation Units On Buses with Partner Masabi
Tapp Pay platform provider, Masabi, and T-Cetra partner to deliver cash to mobile functionality in the Transit app, available at retailers across Dayton
Dayton, OH & New York, NY December 16 2020 Greater Dayton RTA has today announced that riders can now use cash to purchase tickets for its Tapp Pay mobile ticketing service at participating T-CETRA retailers across Dayton. Tapp Pay mobile is part of RTA's new contactless payment system, available by downloading Dayton RTA's official app, the Transit app, on Google Play or the App store.
Customers who have a smartphone and want to pay with cash can now simply purchase and load RTA passes to their Tapp Pay account at T-CETRA retail locations across Dayton. This has been made possible through a partnership between Tapp Pay's Fare Payments-as-a-Service provider, Masabi, Transit and T-Cetra, a leading payments technology company. Once purchased, tickets are stored in a rider's Tapp Pay account ready to use when required.
RTA has also announced the installation of Justride validation units onboard its fleet of buses. Justride Validators (JRVs) support all major ticketing formats including paper and mobile barcodes,  smartcards (NFC) and are future-proofed for cEMV and bluetooth. Designed from the ground up by Masabi, the JRVs possess the necessary capabilities to meet the demands of account-based ticketing, even in large cities, all at a price point that for the first time makes next-generation ticketing accessible to transit agencies and operators in towns and cities around the globe.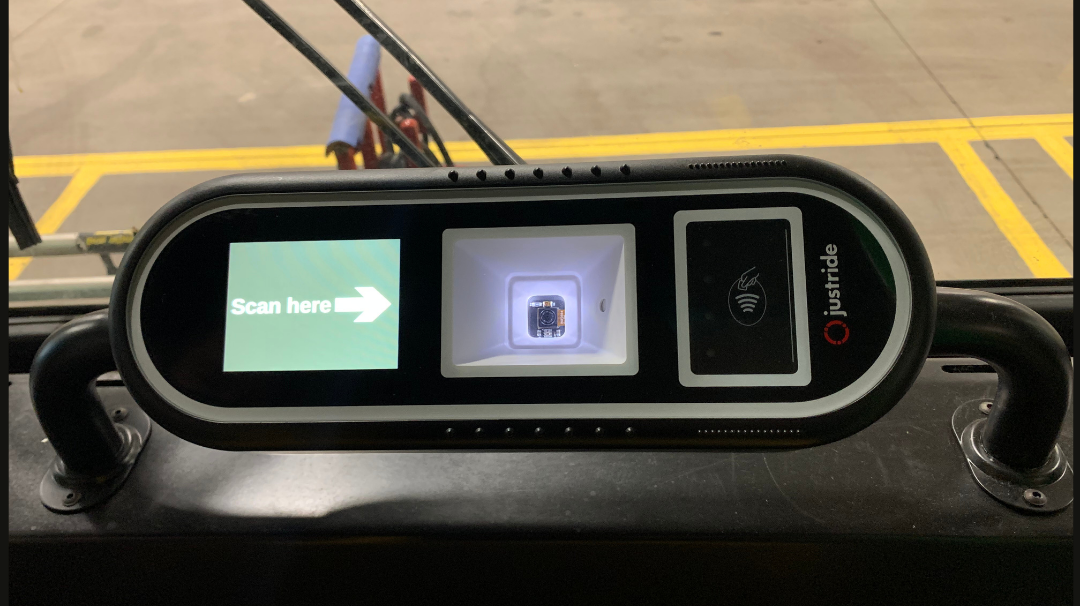 Since the onset of the Covid-19 pandemic, RTA has worked diligently to create and maintain a safe transit environment for customers. In May, Tapp Pay mobile payments were introduced via the Transit app to reduce the amount of physical interactions with on-board payment equipment. With the addition of cash conversion outlets, more customers will have the ability to utilize RTA's new payment system, Tapp Pay.
"We understand that some of our customers have a smartphone but do not have access to a debit or credit card. These retail outlets will provide customer access to Tapp Pay when paying with cash," said Brandon Policicchio, RTA's Chief Customer and Business Development Officer.
"It is vitally important that advances in technology do not exclude those who may not have access to banking services. This means that cash digitization is a key requirement to allow everyone to enjoy the benefits of mobile ticketing," said Brian Zanghi, CEO at Masabi. "Thanks to our integration with T-CETRA, RTA's customers will be able to use local retailers to add funds to their Tapp Pay app, ensuring a safe, contactless service and removing the need for the agency to handle cash and issue tickets."
"It should be as simple as possible for everyone to pay for public transit. Many riders have a phone but don't have access to a credit or debit card. And there's no reason why they shouldn't have the convenience of mobile payments," said David Block-Schachter, Chief Business Officer at Transit. "This partnership with RTA, Masabi and T-Cetra is making public transit payments easy for everyone."
About Masabi
Masabi is bringing Fare Payments-as-a-Service — a better way of delivering fare payments — to public transit agencies and authorities of all sizes around the globe. This enables the delivery of the latest fare payment innovations quickly, using a platform which is constantly updating and adding new features. Not only does this improve the journey experience for passengers, but it helps agencies keep up with the pace of technology change, while reducing the total cost of fare collection. With over 80 agencies of all sizes across 11 countries signed up, Masabi's Justride is the world's leading fare payments platform. Masabi has offices in New York, Denver, London, and Cluj, and investors include Mastercard, Shell, and Keolis. For more information, visit www.masabi.com.
About T-Cetra
T-CETRA, headquartered in Dublin, Ohio, is a technology service provider that transforms cash payments into cashless solutions. T-CETRA's network of over ten thousand independent retailers spans the country and Puerto Rico. With the ability to accept and manage cash (and credit/debit) payments through retailers densely concentrated in lower-income areas, T-CETRA can effectively serve the 82.7 million un/derbanked individuals in the U.S. T-CETRA's flagship product, VidaPay is an online portal used by their retailers to apply cash payments to their customers' accounts and provides a simple interface for retailers to sell products to their customers, order devices and hardware, and manage customer accounts.
About Transit
Transit provides the best mobile experience for riders in more than 200 cities worldwide. Our app offers accurate real-time predictions, simple trip planning, step-by-step navigation and quick, easy payments. Transit also enables multimodal journeys connecting with bikeshare, scooters, carshare and ridehail. More than 75 transit agencies including Dayton RTA have chosen Transit as their app, partnering with our data-driven team to deliver a best-in-class customer experience. Learn more by visiting www.transitapp.com